This fandom is making me wanna scream sometime. You don't have to be agree with every single thing they do , that's for sure, but no need to complain and post rude comments because you don't like it .
First exemple VIP…How many time did I saw fans complaining about the pice of a VIP… They ask us what we want, some say they want more stuff include some others said they want VIP less expensive. So they create 4 different vip … from 99$ to 600$. Yet fans are still complaining that it is to damn expensive. Here is the reality, you cannot ask for the moon and pay for a nothing. You want more stuff let's face it it will be more expensive. But just compare what the boys are offering vs what other artist are offering in their VIP.  I saw artist having VIP for 800$ without even having a meet and greet…Most of the artist have vip for 600$ and the you don't get a soundcheck party …You spend 5 second top chrono with your favorite artist. Yes the tickets is include, but I don't know for you but it's not all my friends that can afford a Gold VIP or Platinum VIP … So if tickets will be include that mean that I will have to go alone at the show ???? I'm glad that the ticket is not include.
Second, fans are complaining that Nick talk too much about Fitness, or his movies…Nick is not just a backstreet boys.  Fans are complaining he is not talking enough about the boys , or the tour . Why can the man talk about what he want without having someone accusing him to not care about the group??
Third , Brian and Wylee… Yet AGAIN the boys life isn't ONLY about the group. Yes Leighane is the CEO of the company , yes Brian talk a lot about it. I am myself something questioning the fact that yes he is tweeting the same person.  But is that give the fans to give him shit for it ?? No I don't think so… No one force you to like something and no one force you to buy wylee.
Coming at last with the wife/fiancé bitching. Let's not forget one thing …THEY ARE HUMAN! …They all have what we call FEELINGS.  Yes the name calling are certainly not the correct way to respond to the hateful comments that they receive. But be in their shoes for 1 day only. Imagine yourself at their place, each time you go on twitter or anywhere else on internet you got PLENTY of hate tweet or comments on facebook saying mean thing…how do you think you will react ?? At the beginning it is easy to say I will ignore it and continue to do my stuff…then when the fans keep sending you the same stuff to make you react….because THEY WANT YOU to react… At one point I can understand that you get frustrated and respond how they do.  Yes they are on the public eyes and should have been use to it…but at the end of the day…they are human just like you and me . Human that can get hurt by hatefull comment.  How are they suppose to act ?? Ask nicely to respect them ?? We all see how it is working for Nick and Lauren , fans continue to bitch her like if she stole them their boyfriends…I remember that Nick block some fans because they were too damn mean … Result …Fans was still complaining that he shouldn't do this since we are his fans that because of us he is where he is…. So if we follow the logic of this… Since we buy their cd, ticket, dvd  ect that give us the right to complain about everything in their life or personal just because « we pay for the stuff you own» ….So the next time your boss is complaining about your work , don't be mad…he is paying for the stuff you are buying …. 
No it is not ok the name calling , but on the others side the one that sending them hateful thing are not ok either… Not liking something don't make you an haters….Not liking something and tweeting them that they are annoying and that they talk to much about certain stuff…thats is maybe not ok . Don't like it ok ..No need to let the freaking world know about it. Talk about it with your friends but don't start making fun about the one who love it.
FINALEMENT les backstreet boys on fini par annoncer leur dates de tournée….Voici un peu à quoi notre été va ressembler….Pour l'instant
30 juin : Aaron Carter à Norfolk CT.
06 Juillet : Bruno Mars à Toronto
04 Août : Backstreet Boys à Toledo
06 Août : Backstreet Boys à Montréal 
10 Août : Backstreet Boys à Cleveland * Avec VIP platinum * 
21 Septembre : Aaron Carter à Ithaca
22 Septembre : Aaron Carter à Toronto 
Ensuite sa sera la croisière à la fin Octobre :) 
** Stefie ** 
Et tu te rappel que tu as un blog qui dors….Honte à nous de n'avoir pas mis à jour ce blog depuis un sacré temps…. Donc depuis notre rencontre avec The Wanted il s'en n'es passé des choses quand même…Tout d'abord… Aaron Carter :) Nous sommes allée le voir dans la pièce The Fanstatik en Janvier 2013…. J'ai déjà dis à qu'elle point je l'aime ?? Il est tellement sweet…. On lui a amener des chips au ketchup a sa demande il était ben trop content :P 
Ensuite en Février nous sommes aller a Toronto pour voir le groupe du UK Lawson….Super bon groupe..Je dois avouer que j'y allais vraiment plus pour faire plaisir à Manon mais superbe découverte ce fut ! Ils sont vraiment fin en plus. Nous avons décidé d'aller manger avant le show et de ne pas attendre trop longtemps dehors et donc en revenant de manger des sushi on entendait crier , arriver à la salle de spectacle on se met en file pour finalement découvrir que les gars devant nous était les gars de Lawson….Nous avons tous pris des photos avec eux dehors * sauf Adam qui était je ne sais ou *. Et après le show * qui avait comme première partie Neverest :D ** Nous avons attendu encore une bonne heure avant que les gars ressortent et qu'on reprenne des photos avec eux sans gros manteau et tuques .
* Avec Adam * 
* Avec Joel * 
*Avec Andy * 
*Avec Ryan * 
Et nous avons aussi eu le temps de prendre des photos avec Neverest bien sur.
Et puis finalement le 27 Avril dernier nous sommes aller a Albany voir Aaron pour sa tourne The After Party :) …Super show trop court mais vraiment il se déchaine sur une scène et ensuite une fois il était vraiment sweet. Notre amie Pam devait venir et n'a pas pu à la dernière minute donc nous avions penser a un petit cadeau pour elle et il a embarquer dans notre idée sans hésiter :) 
Voilà les nouvelles pour l'instant :) 
** Stefie ** 
Bonjour tout le monde
Non nous ne sommes pas morte !!! Pas forte mais pas morte. Nous revenons d'une longue fin de semaines ou nous sommes allée à Détroit pour voir The Wanted ! Fin de semaine de malade :) …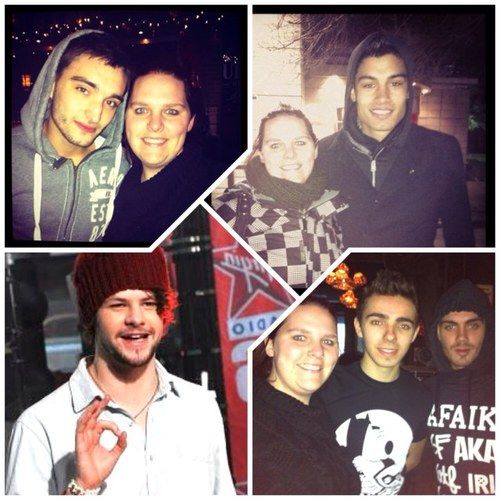 Mais sa c'est une autre histoire :P Si vous voulez plus de détail aller voir http://thewantedcan.tumblr.com/ notre TUMBLR sur The Wanted :) 
Comme vous avez pu voir dans nos deux derniers post…Eh oui une nouvelle croisière des Backstreet Boys à été annoncée et Manon et moi y retournons. Cette fois ci nous ne serons pas dans la même cabine. Pour ma part j'y vais avec notre amie Geniève :) et Manon elle y va avoir Aurélie et Marie Claude :) Se sera la première croisière pour Aurélie :D !!!! La croisière sera du 25 au 28 Octobre et nous prévoyons partir du 23 au 29 Octobre !! Nous avons bien hâte d'avoir déjà les thèmes pour préparé le tout !!!! Cette fois ci nous ferons sur de faire la review de tout les jours je vous le promet :D … 
Stefie
Posted on Aoû 31, 2012 at 12PM
Omg on n'est tellement désolée, nous avons toujours pas posté la review de la journée 2 et 3 ainsi que les photos. Ce n'est pas que nous ne voulons pas le faire mais les dernières semaines on été très chargé. Et nous revenons tout juste d'un trip a Philadelphie pour voir Nick en show…Revenez nous voir bientot nous arrons tout les review et photos de mis sur le blog !!
So sorry about the delay for the review of day 2 and 3…We will post shortly the review with pictures also a review for our last trip in Philadelphia to see Nick :) 
Pour nous faire pardonner voici une petite photo ;) 
* Stefie *